19 Action-Adventure Books for Kids
Who doesn't love a good adventure? Filled with twists, turns, and plenty of action, these books will send readers on the adventure of a lifetime!
Dimension Why series
A 31st century boy and a 21st century girl team up to save the universe in this hilarious duology by middle-grade author John Cusick.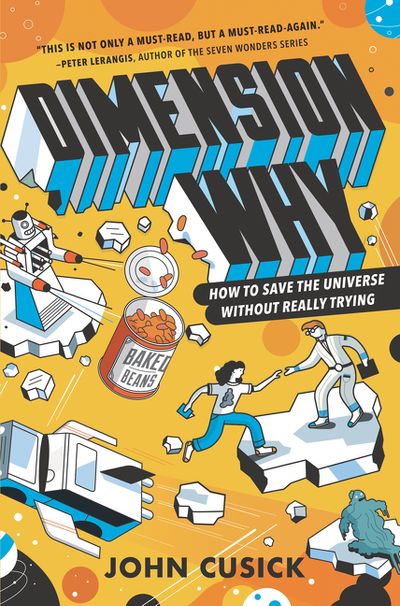 Lola Ray was a normal 21st-century girl until a poorly timed sneeze in an X-ray machine flung her a thousand years into the future. To get back home, she'll have to team up with Phineas T. Fogg, a 31st-century boy whose only friend up until now has been his talking teddy bear and whose overprotective parents have never let him leave his high-tech apartment.
Together, Lola and Phin will have to cross the galaxy, brave a mysterious invitation to tea, and escape a race of all-powerful interdimensional beings who are convinced that Lola knows the answer to the universe's biggest question . . . the question of The End.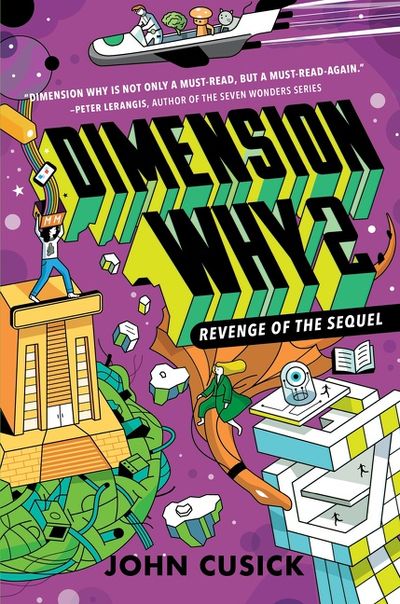 Phineas T. Fogg and Lola Ray may have just saved the universe without really trying, but it's going to take a whole lot of work now to get Lola back home to the 21st century. The only hope and clue Phin and Lola have is hidden in a complex code embossed on a really, really old Twinkie that Lola's father left for her to find.
But before Phin and Lola can even begin to decrypt her father's message, a mysterious girl, wearing what looks to be a bathrobe and riding what looks to be a dragon, absconds with Lola's Twinkie! And if it that wasn't bad enough, the mystery girl wants to destroy the universe herself!
As they begin to uncover the truth about the mysterious girl, Phineas and Lola realize that there's more to this Twinkie-stealing/dragon-riding girl's plans than they originally thought.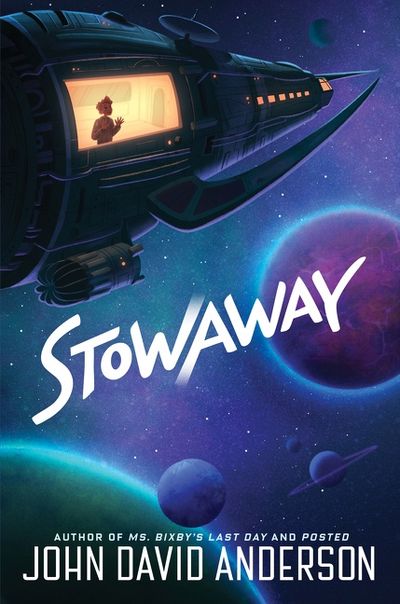 When scientists discover a rare and mysterious mineral buried in the Earth's crust, they have no idea that it just happens to be the most valuable substance in the entire universe. It's not long before aliens show up to our little corner of the galaxy offering a promise of protection, some fabulous new technology, and entry into their intergalactic coalition—all in exchange for this precious resource. A material so precious that other alien forces are willing to start a war over it. A war that soon makes its way to Earth.
The beloved author of Posted and Ms. Bixby's Last Day returns with the first book in a coming-of-age sci-fi duology about Leo, a kid trying to navigate the galaxy in order to save his family—and, possibly, the planet Earth.
Orpheus Plot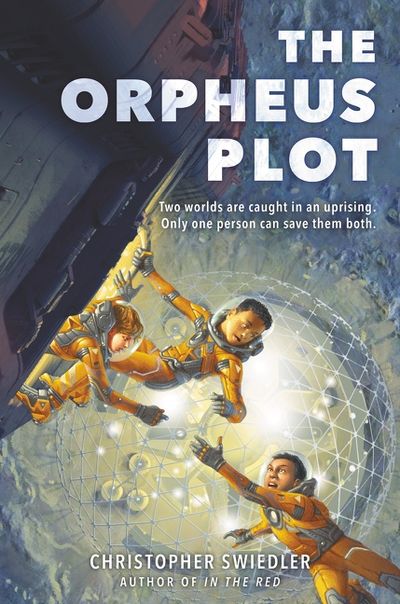 A rebellion in space pits one boy's past against his future in this gripping adventure from the critically acclaimed author of In the Red! This out-of-this-world story about fighting for what's right, chasing your dreams, and believing in yourself is perfect for fans of Kevin Emerson, Yoon Ha Lee, and D. J. MacHale.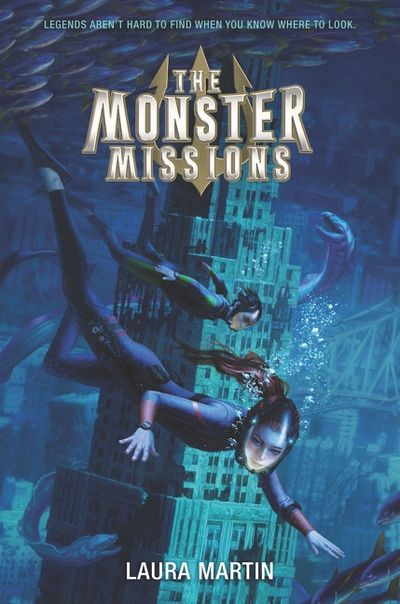 From the critically acclaimed author of Float and Glitch comes a new standalone adventure under the sea, perfect for fans of Gordon Korman and Dan Gutman!
Berkeley and her best friend, Garth, live on an old cruise ship, scavenging for supplies from the drowned cities left behind on the ocean floor after the sea swallowed up all the land. They think they've seen every kind of aquatic creature, but they never expected to find a Hydra
The Hydra wants revenge on their home ship—and if it succeeds, their families will go down with it. Berkley, Garth, and their crew must find a way to save the ship. But monsters aren't the only deadly things lurking in the ocean's depths.
The Muse Squad series
A debut middle grade adventure series about a Cuban American girl who discovers that she's one of the nine muses of Greek mythology. Whisked away to Muse Headquarters, she joins three recruits her age, who call themselves the Muse Squad. Together, the junior muses use their magic to inspire and empower—not an easy feat when you're eleven and still figuring out the goddess within.
The Muse Squad: The Cassandra Curse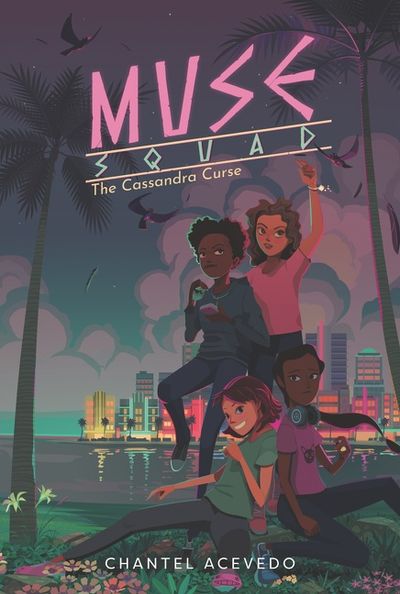 The Muse Squad's first assignment is Callie's exceptionally nerdy classmate Maya Rivero, the squad comes to Miami to stay with Callie and her Cuban family. There, they discover that Maya doesn't just need inspiration, she needs saving from vicious Sirens out to unleash a curse that will corrupt her destiny.
As chaos erupts, will the Muse Squad be able to master their newfound powers in time to thwart the Cassandra Curse . . . or will it undo them all?

The Muse Squad: The Mystery of the Tenth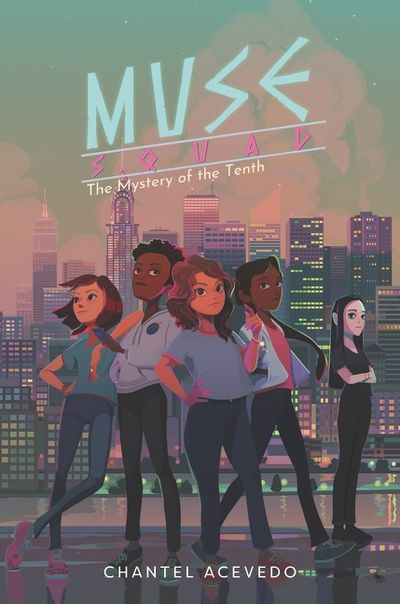 The Muses get startling news: an unprecedented TENTH muse has been awakened somewhere in Queens, putting Callie in the perfect position to help find her.
But balancing missions and family-mandated arts camp proves difficult for Callie, especially once mysterious messages from spiders (yikes!) begin to weave a tale of ancient injustice involving Callie's campmate, Ari. Now Callie and her friends have to make a choice: find the tenth muse as per orders, or trust that sometimes fate has other plans.

Super Secret Super Spies: Mystery of the All-Seeing Eye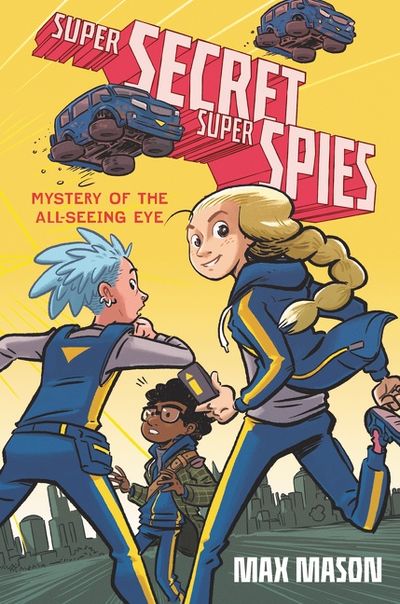 Perfect for readers of Stuart Gibbs's Spy School series, this is the first book in an epic series filled with gadgets, secret codes, and clandestine adventures from debut author Max Mason!
Maddie Robinson has always been overlooked: by her parents (who disappeared), by her friends (who are nonexistent), and even science fair judges (who think she has "so much . . . potential"). So when a mysterious man called The Recruiter invites her to join a secret society of spies, Maddie is floored.
Then she discovers that these super secret super spies are the Illuminati—the world's most covert organization rumored to control, well, everything.
And one more thing: The Illuminati are kids, like Maddie! Together, they must protect humanity from anyone who threatens its peace, and basically keeping the planet spinning on its axis. No biggie, right?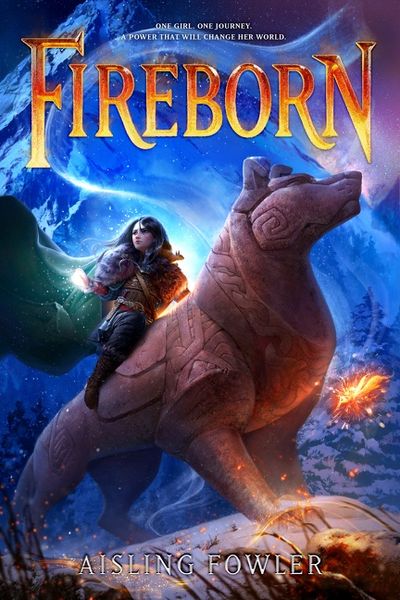 Fireborn is an epic quest, perfect for fans of the His Dark Materials and The School for Good and Evil series, that will spin readers into a magical world like no other—and introduce them to an unforgettable new heroine named Twelve.
Twelve gave up her name and identity to train in the art of hunting them—so she says. The truth is much more deadly: she trains to take revenge on those who took her family from her.
But when Twelve's new home is attacked, she'll find herself on an unexpected journey, where her hidden past is inescapably intertwined with her destiny—and the very fate of her world.
Samosa Rebellion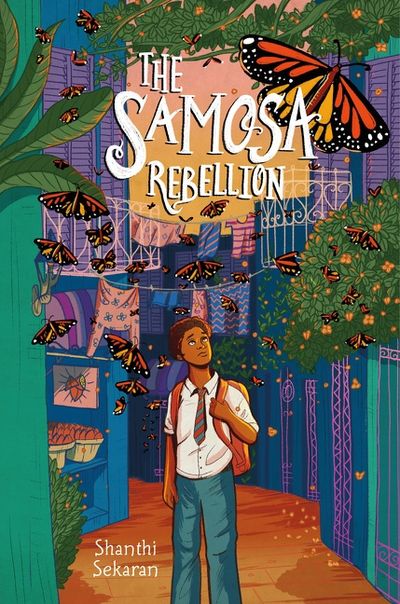 A timely and stunning novel in which a young boy and his friends must rescue his grandmother from a relocation camp after their country's descent into xenophobia. Perfect for fans of The Night Diary and Front Desk.
Before his grandmother moved from India to the island of Mariposa, Muki Krishnan's life was good. But now? He has to share his bedroom with Paati, his grandmother.
Paati's arrival coincides with even bigger changes in Mariposa. The president divides citizens into Butterflies—families who have lived in Mariposa for three generations—and Moths, who, like Muki's family, are more recent immigrants. The changes are small at first. But then Muki and his friends find a camp being built to imprison Moths before sending them away. Soon after, his Paati is captured and taken there.
While devising Paati's escape, Muki discovers that a secret rebellion is underway, and as he digs deeper, he realizes that rescuing Paati will be the fight of his life.
Troubled Girls of Dragomir Academy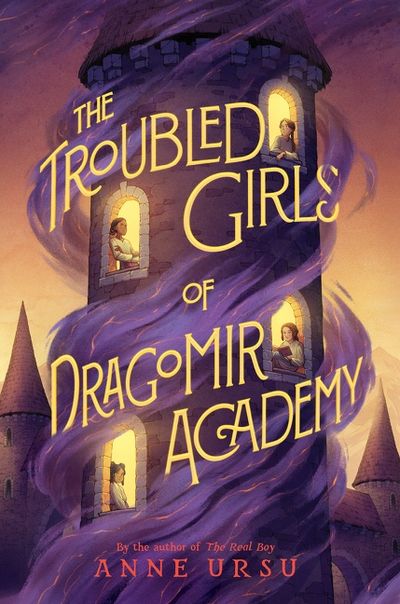 From the acclaimed author of The Real Boy and The Lost Girl comes a wondrous and provocative fantasy about a kingdom beset by monsters, a mysterious school, and a girl caught in between them.
None of Maya's family has any hope for her. So no one is prepared when they receive a letter from a place called Dragomir Academy—a mysterious school for wayward young girls.
Soon she is a hundred miles from home in a strange and unfamiliar place. Dragomir Academy promises Marya and her classmates a chance to make something of themselves in service to one of the country's powerful sorcerers. But as they learn how to fit into a world with no place for them, they begin to discover things about the magic the men of their country wield, as well as the Dread itself—things that threaten the precarious balance upon which the kingdom is built.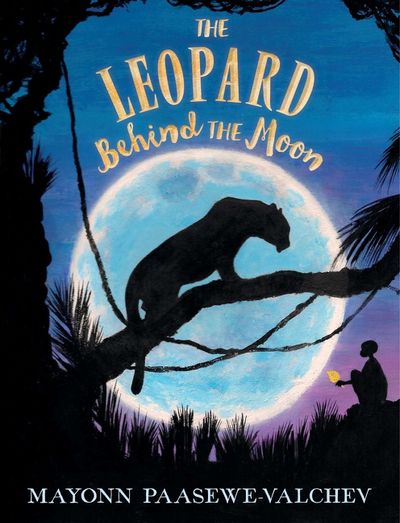 The power of storytelling comes to life in this novel perfect for fans of Erin Entrada Kelly, Tracey Baptiste, and Tae Keller.
There are three important laws in Ezomo's village: Do not go to The Valley, do not go out at night, and never, ever, ever open the magical door that protects them all. But when Ezomo encounters the leopard believed to have killed his father, he and his two best friends embark on a journey that leads them past the boundaries set by their elders.
Mischief and Mayhem #1: Born to be Bad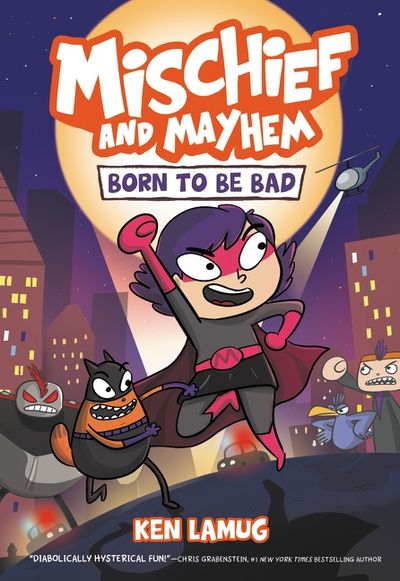 Dog Man meets Despicable Me in this crackling, hilarious middle grade graphic novel series from author-illustrator Ken Lamug, starring Mischief and Mayhem—a dynamic duo that falls into supervillainy after they're kicked out of superhero camp.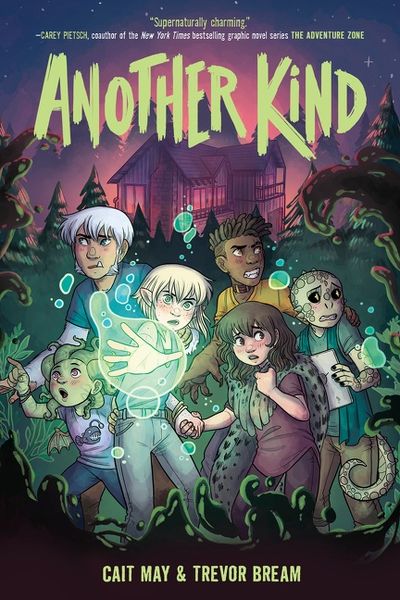 Six kids search for a new place to call home in this middle grade graphic novel for fans of Marvel's Runaways and The Witch Boy by Molly Knox Ostertag. Another Kind is not your average monster story.
Tucked away in a government facility, six not-quite-human kids learn to control their strange and unpredictable abilities. Life is good—or safe, at least—hidden from the prying eyes of a judgmental world.
That is, until a security breach forces them out of their home and into the path of the Collector, a mysterious being with leech-like powers. Can the group band together to thwart the Collector's devious plan, or will they wind up the newest addition to his collection?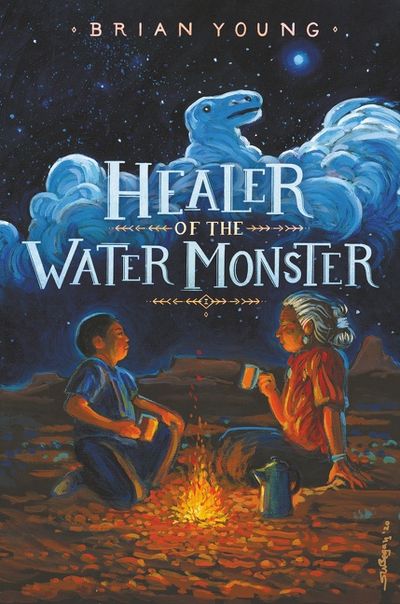 Brian Young's powerful debut novel tells of a seemingly ordinary Navajo boy who must save the life of a Water Monster—and comes to realize he's a hero at heart.
When Nathan goes to visit his grandma, Nali, at her mobile summer home on the Diné Homelands, he knows he's in for a pretty uneventful summer.
One night, while lost in the nearby desert, Nathan finds someone extraordinary: a Holy Being from the Navajo Creation Story—a Water Monster—in need of help.
Now Nathan must summon all his courage to save his new friend. With the help of other Navajo Holy Beings, Nathan is determined to save the Water Monster, and to support his Uncle Jet in healing from his own pain.
Cece Rios and the Desert of Souls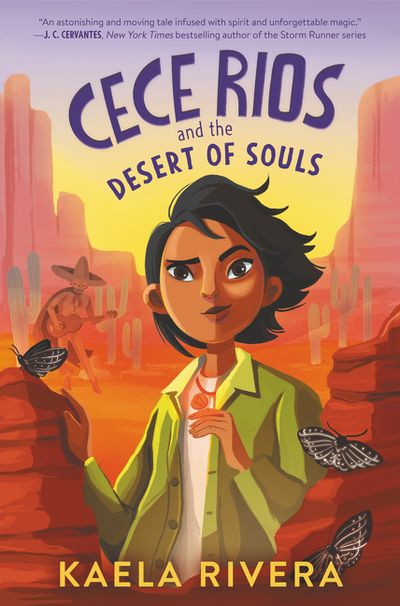 When a powerful desert spirit kidnaps her sister, Cece Rios must learn forbidden magic to get her back, in this own voices middle grade fantasy perfect for fans of The Storm Runner and Aru Shah and the End of Time. 
Cecelia Rios has always believed there was more to the criaturas months, when powerful spirits roam the desert and threaten humankind, much to her family's disapproval. After all, only brujas—humans who capture and control criaturas—consort with the spirits, and brujeria is a terrible crime.
When her older sister, Juana, is kidnapped by a powerful dark criatura, Cece is determined to bring her back. Thankfully, the legendary criatura Coyote agrees to help her on her journey. With him at her side, Cece sets out to reunite her family—and maybe even change what it means to be a bruja along the way.
Dungeons & Dragons #1: Dungeon Academy: No Humans Allowed!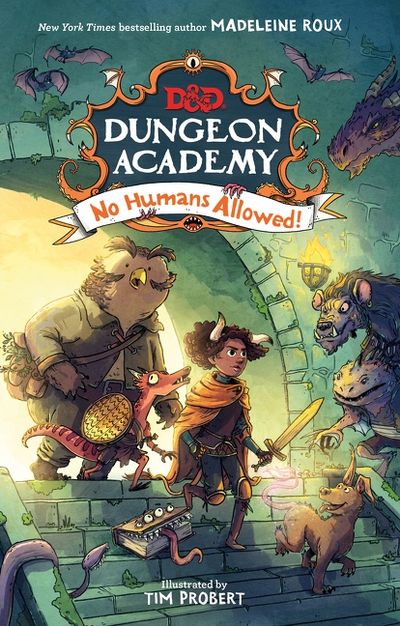 From New York Times bestselling author Madeleine Roux and acclaimed artist Tim Probert comes an all-new original Dungeons & Dragons middle grade series!
Welcome to Dungeon Academy, where monsters and creatures train for the dark world that awaits just beyond the dungeon walls! But Zellidora "Zelli" Stormclash is a bit—different. She's the one thing monsters and creatures of the Forgotten Realms fear the most: Zelli is a human!
Knowing she'll never be accepted, Zelli's parents disguise her as a minotaur in hopes she'll blend with the academy's monstrous surroundings.
Then, Zelli learns of the great human adventurer, Allidora Steelstrike, who oddly resembles her. Could Zelli also be a Steelstrike? Seeking answers to her true lineage, Zelli embarks on a dangerous adventure.
But she won't be alone. A vegan owlbear, a cowardly kobold, and a shapeshifting mimic will join Zelli on her quest for truth in a world that holds no place for them. And who knows? Perhaps these monstrous misfits may discover some truths of their own . . .
Camp Murderface series
Summer camp turns sinister in Camp Murderface, a spooky middle grade read perfect for fans of scare masters like R.L. Stine and Christopher Pike.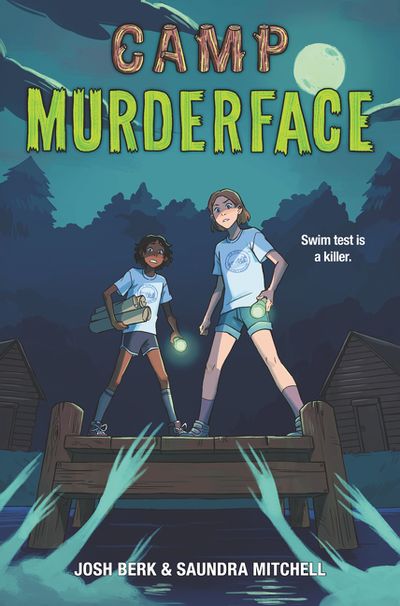 The year: 1983. The place: Ohio. The camp: Scary as heck.
Camp Sweetwater is finally reopening, three decades after it mysteriously shut down. Campers Corryn Quinn and Tez Jones have each had more than enough of their regular lives—they're so ready to take their summer at Sweetwater by storm.
But before they can so much as toast one marshmallow, strange happenings start…happening. Can they survive the summer? Or will Camp Sweetwater shut down for good this time—with them inside?
Camp Murderface #2: Doom in the Deep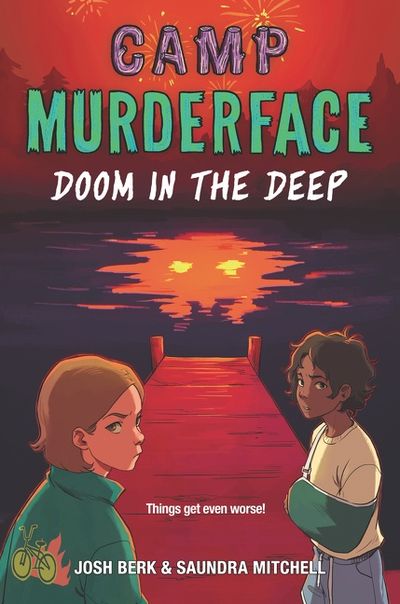 There's no such thing as an uneventful summer at Camp Sweetwater.
Now that the Vampire Devils beneath the lake have been awakened, the camp is in big trouble. The first victims? Tez and Corryn's counselors, Gavin and Scary Mary.
The Camp Director insists that the missing counselors are just quitting and going home, but Tez and Corryn don't believe it. They know something much more eeeeeeevil is afoot.
With the help of their cabinmates, Tez and Corryn set out to investigate the disappearances. But what they find is a horror closer than the bottom of the lake… an
Check out these popular posts:
Post
September 27, 2021
19 Action-Adventure Books for Kids
Post
March 2, 2022
Books Celebrating Trans Identities
Post
December 15, 2020
Resources for Kids Ages 8-12