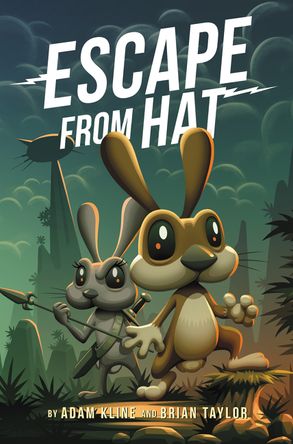 Escape from Hat
An epic battle between good and bad luck shakes out as a lucky rabbit undertakes a journey into the magical other-world of Hat to save the boy he's sworn to protect from the evil of the bad-luck cat. Soon to be a major motion picture!
About the Book
Good and bad luck battle to control the world in this hilarious and enchanting illustrated middle grade novel about a lucky rabbit, an evil black cat, and one hapless boy caught between them, from award-wining screenwriter and debut author Adam Kline.
We all have good luck and bad, courtesy of our very own lucky rabbits and bad-luck black cats. Most people never notice them.
Cecil Bean certainly never noticed the villainous cat, Millikin, that lurked around every corner or his devoted rabbit, Leek, who was never far from his side. At least not until Millikin hatches a deliciously evil plan to vanish Leek into a magician's hat, leaving Cecil with no good luck at all and stranding poor Leek in a world that no rabbit has ever escaped from.
Leek and Cecil will do anything to find their way back to each other—even if it means facing enormous odds and seemingly insurmountable obstacles. To escape from Hat, Leek must sail across the Great Ink, travel beyond the Jungle Prime Evil, trek through the Grottos of Ill Repute, and enter the heart of all bad luck: the fortress of the black cats itself.
All while Cecil heads out on an adventure of his own to find the hard-heartened magician, whose tricks seem to have turned Cecil's life upside down.
Gear up for adventure in this boisterously entertaining debut novel by award-winning screenwriter Adam Kline, with gorgeous, full-color illustrations throughout by Brian Taylor! Soon to be a major animated motion picture from Academy Award-nominated director (Kung Fu Panda, Little Prince) Mark Osborne.