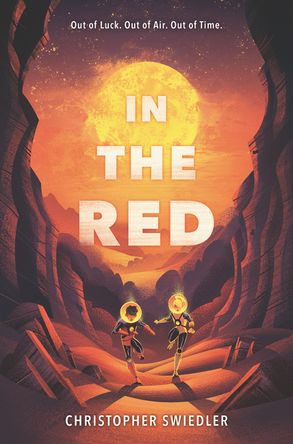 In the Red
Stranded miles from home in the middle of the Martian desert, Michael and Lilith will have to risk everything if they're going to have any hope of getting back home.
About the Book
A harrowing, pulse-pounding race for survival that New York Times bestselling author D. J. MacHale says "will leave you breathless."
Michael Prasad knows he shouldn't go out on the Mars surface alone. It's dangerous. His parents have forbidden it. And the anxiety he feels almost every time he puts on a spacesuit makes it nearly impossible for him to leave the safety of the colony.
But when his best friend, Lilith, suggests they sneak out one night, he can't resist the chance to prove everyone—including himself—wrong.
As the two ride along the Mars surface in a stolen rover, miles from the colony, a massive solar flare hits the planet, knocking out power, communication, and navigation systems, and the magnetic field that protects the planet from the sun's deadly radiation.
Stranded hours from home with an already limited supply of food, water, and air, Michael and Lilith must risk everything if they're to get back to the colony alive.