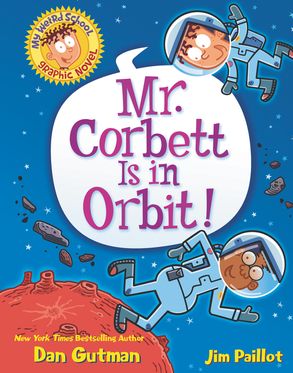 My Weird School Graphic Novel: Mr. Corbett Is in Orbit!
From bestselling author Dan Gutman comes the first ever graphic novel starring Ella Mentry School's favorite students. In this first book, A.J. and the gang are launched into outer space! 
About the Book
Graphic novel fans, prepare for liftoff! New York Times bestselling author Dan Gutman and illustrator Jim Paillot have brought you an all-new series of My Weird School graphic novels!
In this first book, A.J. and his friends at Ella Mentry School are headed on a field trip to NASA headquarters. But their tour guide, Mr. Corbett, is a total space cadet! And what happens when A.J. accidentally launches the whole class into outer space?! 
Full of visual gags, space aliens, and hilarious full-color illustrations, this is the weirdest graphic novel in the history of the world!
With more than 30 million books sold, the My Weird School series really gets kids reading!