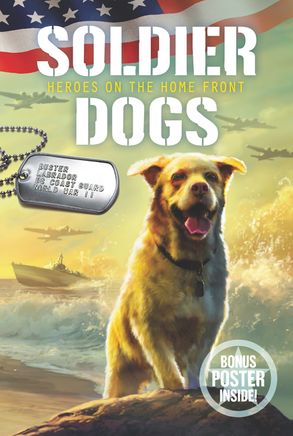 Soldier Dogs #6: Heroes on the Home Front
In the sixth book in the Soldier Dogs series, siblings Charlie and Kate give up their dog to the Coast Guard to help protect America's shores—only to discover a German threat on their own home turf.
About the Book
Twin siblings give their dog to the Coast Guard during WWII only to discover a German threat in their hometown. The sixth book in the action-packed Soldier Dogs series that's perfect for fans of Hero and Max! 
Comes with a pull-out collectible poster and map!
When they hear about the Dogs for Defense program, twins Charlie and Kate know their yellow lab Buster would be a perfect soldier dog. So they enlist Buster in the Coast Guard, where he works alongside Army horseback patrols to protect US shores from German U-boat attacks.
Back home, Charlie and Kate discover a threat of their own—a coded message about a Nazi sabotage plan! With danger on every side, can Charlie, Kate, and Buster defend US shores from the Axis Powers?